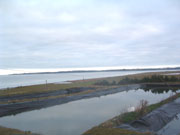 Biofarm.dk ApS is located at the Limfjord in West Jutland near Holstebro, Denmark. From its biolagoons and its aquafarm, Lars Bach has produced marine fish for more than 20 years. He began in 1989 with a single biolagoon and later expanded.
In 1989, the first biolagoon of 1,200 cubic meters was established and the company was established under the name "Ejsing Seafarm".
In 1991, the farm expanded with five biolagoons of each 2,000 cubic meters.
In 2003, a new RAS system was established for feeding with dry feed and recycled farming.
In 2016, Ejsing Seafarm changed its name to Biofarm.dk ApS.
Biofarm.dk ApS has long experience with breeding fish, and in production we greatly emphasis on a sensible farming method that resembles nature as much as possible.