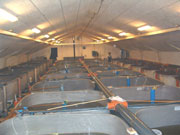 Biofarm.dk ApS is located at the Limfjord in West Jutland near Holstebro, Denmark.
The plant consists of three recirculating aquaculture systems (RAS/recycle) systems, all of which are separate. All three systems each have their own cleaning system and are kept separate. An indoor recirculatory plant requires a lot of energy to drive. This is obtained from a large wind turbine on the ground.
In the indoor plant the fish are bred in aquaculture from fry to adult fish. The breeding takes place in an indoor plant, where the water can be exchanged between freshwater and saline, and the water is being recycled.
Pisces go from fry to human consumption in recycled basins, where there is always enough space and feed. The feed is granules with a carefully tuned composition of proteins, fats and minerals. An automatic system ensures that the fish get what they can eat, but without food spillage.
The fish are hand fed daily so an employee can keep an eye on the appetite to make sure it is as it should be and this is used as an indicator to make sure nothing is wrong. All pools are cleaned every other day, and water samples are being inspected to ensure water quality.
The water is purified by biological and mechanical processes and without the addition of chemicals. The purification process ends with a biocompost which is used as fertilizer in the fields around the plant, where the high nutrient content contributes to creating good growth for the crops.